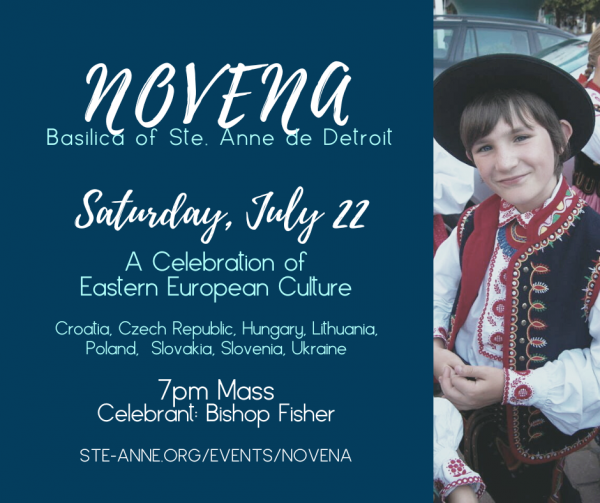 Dear PAC-MI members and Polonia Friends!
It's that time of year again for the St. Anne Novena masses which are held every year at the Ste. Anne de Detroit Basilica (1000 Ste. Anne Street Detroit 48216, 313-496-1701). As is the tradition, for 9 days there is a mass each day at which a Detroit area ethnic/nationality community is showcased and celebrated, leading up to the final mass on the feast day of St. Anne, July 26.
Polish American Congress-MI is happy to once again co-sponsor this event.
Our mass dedicated to Polish/Eastern European cultures will take place this year on Saturday, July 22, at 7:00pm.
Of course, please feel warmly invited to come and to participate in this mass and special occasion. To date, the Polish community has always been abundantly represented. We hope to continue that tradition again this year.
We invite all organizational representatives to take part in the procession at the beginning of mass, and for our group to sit together.  Nationality dress, uniforms, ethnic colors, Polish and organizational flags and banners are especially welcome. We hope to have a dance group or two performing after mass outside.
Please let me know if you plan to attend, particularly organizational groups, so you can be appropriately recognized.
Msgr. Kosanke. pastor of St. Anne's and who is of Polish descent, is especially proud to have the Polish community well represented.
I am happy to answer any questions. I attached a church flyer with information.
So, please mark your calendars, and join us.
Serdecznie zapraszamy!
Sincerely,
Ann Bankowski, President
Polish American Congress
Michigan Division
Ph.:(313) 365-9400