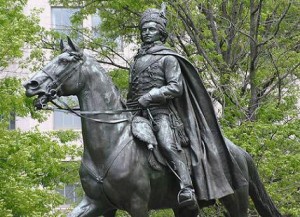 Miller applauds passage of measure to make Pulaski an Honorary American Citizen. COngress bestows rare honor posthumously.
WASHINGTON – U.S. Rep. Candice Miller (MI-10) today applauded the passage of H.J. Res 26, a measure in the House of Representatives that would award posthumous American citizenship on Casimir Pulaski, the Polish military commander who fought and died heroically in the Revolutionary War. The honor has only been bestowed upon six other people throughout American history, and Miller said that the extraordinary bravery and sacrifice of the Polish war hero rises to the level of the award.
"Following the advice of Benjamin Franklin, General Washington brought Casimir Pulaski to America to help our forces fight the British," said Miller. "He was promoted to general officer by Washington after showing incredible bravery against British forces. And when funding from Congress was tight, Pulaski used his own money to purchase necessary equipment for his soldiers. This was a man of true bravery, honor and courage."
Pulaski had been renowned in Europe for his bravery and skill as a Polish commander after fighting the Russians for Polish independence when George Washington heard of his skill and brought him to America. Pulaski showed incredible bravery against the British in the Battle of Brandywine and used his own money to help fund the war effort. In 1779, after launching an attack in the Battle of Savannah, Pulaski was fatally wounded and died two days later. Miller said that Pulaski would have been proud of the award Congress has bestowed upon him.
"Casimir Pulaski fought and died for this country, and it was a country he loved," said Miller. "In his death he fulfilled a commitment he had made to General Washington in which he stated 'I came here, where freedom is being defended, to serve it, and to live or die for it. Casimir Pulaski died for our freedom and he is deserving of being awarded posthumous American citizenship."
Phaedra Dugan
Communications Director
Office of Congresswoman Candice Miller
228 Cannon House Office Building
Washington, DC 20515
(202) 225-2106 office
(202) 257-1554 cell