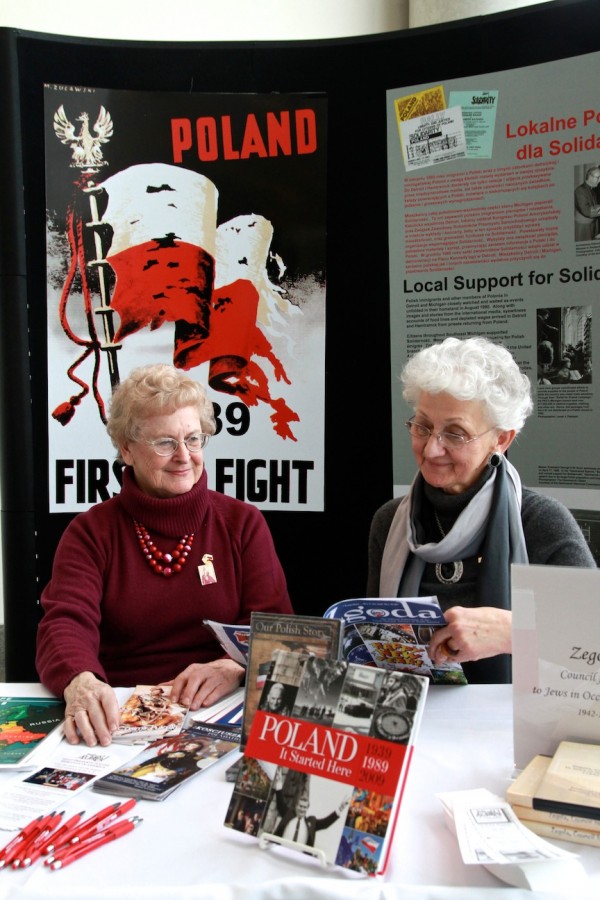 The Michigan Polish-American Congress got the Certificate of Merit for the best display at the Polonia showcase all part of the Polish-American Heritage Day at the Convocation Center. Here Anna Nowakowski and Barbara Lemecha go over the material they presented. Some of the suites at the arena decorated their sky-boxes to honor Poland and the occasion. (Photo by Lars Hjemlroth)
Displays Presented by PNA and Michigan PAC Gets Honored
YPSILANTI–  The campus of Eastern Michigan University was abuzz with action as the school's intercollegiate basketball teams hosted Polish-American Heritage Day at the Convocation Center.  Besides the variety of attractions there were some special Polonia news announcements that highlighted the event.
Polish Rock-pop singing sensation, Magda Kaminski, performed.  She was a big hit doing routines and songs from her new CD at both halftimes.  She was gracious with post concert photos and mingled with the crowd after her sessions.  The Wawel Folk Ensemble and the PNA Centennial Dancers performed during the TV timeouts.
The event provided a platform for dialogue and creative connections.  Groups and people affiliated with Polish culture and those in attendance had an opportunity to make connections and build relationships.  Also, awareness was generated throughout the community and beyond.
EMU's marketing and graduate studies program used the event as a skills development assignment and blitzed awareness for the occasion.  Other EMU activities were highlighted such as the faculty art exhibition and the upcoming graduate student art exhibition through March 8, at the Ford Gallery on campus.
A variety of historic and art displays were showcased in the atrium lobby along with an academic presentation by the EMU World Language Department.  Considering the global economy shifts, the EMU World Language Department showed how communication has become essential in more than one language.  The handouts introduced why it is so important to have a good understanding of other cultures.  Dr. Rosemary Weston-Gil was on hand for questions.  Additionally, resource materials were provided for study abroad.
It was also announced that EMU would be starting a Polish curriculum next September.
Carol Surma, president of Friends of Polish Art said, "I had nice discussions with folks who were interested in our upcoming 75th anniversary celebration and new audiences to network our scholarship programs."
Chris Ozog said, "This was a great opportunity for everyone to come together and highlight the activities of other organizations.  Who knew so many Americans were playing professional basketball in Poland?  This event also shows why an introduction to languages can be so relevant for global bussiness."  Ozog also presented information about the upcoming Polish-American Night at Comerica Park with the home town Detroit Tigers.
It was announced that Friday, June 1, 2012 will be the date and the New York Yankees are the added draw.  Ted Klamerus, a longtime Detroit area sportsman and board member of the National Polish-American Sports Hall of Fame helped ambassador the baseball announcement.
The 2012 NPASHF induction will be Thursday, June 21, at the American-Polish Cultural Center  in Troy, Michigan.
The EMU E-Club Athletic Hall of Fame Class of 2012 was introduced and a presentation about the Polish-American Football League, Polska Liga Futbolu Amerykańskiego, with EMU assistant football coach Mike Hart and sports broadcaster Raymond Rolak was popular.  A lively question and answer period held the attrention of many.  Rolak was in demand
Also a display on basketball, koszykowka, opportunities in Poland was a highlight.  This year there are 68 American men and 44 American women playing professional basketball in Poland, including Lauren Prochoska formerly of Bowling Green.  She was the Mid-American Conference Women's Tournament MVP last year in Cleveland.  Anna Kowalska, a Polish National and also an assistant coach for the visiting Kent State women talked about her NCAA basketball experiences.
The Polish Times had a popular display about the Polish aviators of World War II and the Battle of Britain.  A local art club presented awards to the most outstanding educational displays including those presented by the PRCUA, Michigan Polish American Congress, and the Polish National Alliance.   
Information was also available on how to access archives of the Polish Detroit history collection at the Bentley Library along with information regarding the Polish Ann Arbor Film Festival.
Telewizja-Detroit a video service in the Detroit area and a continuous podcaster of Polish information had a display and TV message board available for those in attendance.  Another popular attraction was the Polish food offerings presented from Srodek's of Hamtramck, MI.  There were video highlights of the Srodek television episode that aired on the popular Bizarre Foods TV show on the Travel Channel hosted by Andrew Zimmern.
Four year EMU basketball letter winner Kamil Janton, also a Polish National, had an outstanding defensive performance in the men's 68-55 win over Ohio University.  Another highlight was in the EMU women's victory over Kent State, 83-47.  EMU's Tavelyn James lit up the scorboard with 40 points.  She was mobbed after the game by the CYO girls youth teams in attendance.
PolVision of Chicago carried a feature from the game and there were broadcast highlights of the event telecast to Poland.
Editors Note:  Tomasz Czuprynski is a presenter for Telewizja-Detroit