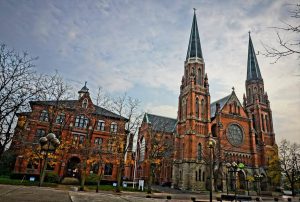 St. Anne De Detroit Church, located near Ambassador's Bridge in Detroit, dates back to Cadillac's settling of Detroit in 1701, and it's considered the second-oldest continuously operating Roman Catholic parish in the U.S.  The current Neo-Gothic structure, the parish's 8th church building, dates to 1886 and is listed on the National Register of Historic Places.
What was once Detroit's signature French-language parish – the old school building has the name "Ecole Ste. Anne" carved into it – now has a growing, vibrant, primarily Hispanic congregation.
But once a year, for 10 days, the church becomes a site for Ethnic Novena, catered to the diverse community of Metro Detroit.
On Thursday, July 20, a Polish Novena will be held, with Fr. Ostrowski as Presider, and featuring award-winning Filarets Choir.  Knights of Columbus, Polish dance groups will also be featured.
This year the Novena will introduce a special new tradition: carrying of flags – the flag of the nation represented, the Detroit flag, the American flag, and the Vatican flag.
Refreshments will be served after the Novena at the Parish Hall.
St. Anne De Detroit Church: 1000 St Anne St, Detroit, MI 48216.  Visit www.ste-anne.org for more information.
JULY 18 – Ste. Anne Novena – Night 1 (Irish)
JULY 19 – Ste. Anne Novena – Night 2 (Asian)
JULY 20 – Ste. Anne Novena – Night 3 (Polish)
JULY 21 – Ste. Anne Novena – Night 4 (Albanian)
JULY 22 – Ste. Anne Novena – Night 5 (Mexican)
JULY 23 – Ste. Anne Novena – Night 6 (French)
JULY 24 – Ste. Anne Novena – Night 7 (Chaldean)
JULY 25 – Ste. Anne Novena – Night 8 (African-American)
JUL 26 – Ste. Anne Novena – Night 9
(seb / photo: St. Anne de Detroit Facebook Page)