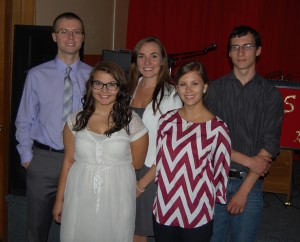 On Wednesday, August 6, the Polish American Congress (PAC) Michigan Division Scholarship Committee held its annual Scholarship Award Dinner during which this year's recipients of the PAC Scholarships were presented. The event was held at the "Krakus" Restaurant in Detroit.
The presentation was hosted by Wallace Ozog, the Chairman of the PAC Scholarship Fund Committee and Christopher Adamczyk, the Secretary of the Committee.
The PAC Scholarship Fund Committee selected six students awarded a $1000 scholarship each:
– Filip Buniewicz (attending University of Michigan; majoring in Engineering);
– Matthew Piecyk (attending Macomb County Community College; majoring in Psychology);
– Ewa Bieciuk (attending Wayne State University; majoring in Early Childhood Development);
– Michael Anthony Chruściel (attending Wayne State University; majoring in Master of Library and Information Science),
– Ewelina Kutyma (attending Central Michigan University; majoring in Neuroscience),
– Beata Sas (attending Wayne State University; majoring in Psychology).
All recipients, except Filip Buniewicz, were present at the event. Filip has sent a special thank-you letter which during the banquet was read by his father. "I am currently working in Central Lake, MI as a camp counselor at YMCA Camp HayoWentHa. My days off are predetermined and I do not have a car as my disposal. Thank you very, very much for this award. Every little bit helps with the cost of going to a university. I am very happy at the University of Michigan and gifts such as these make it possible for me to be there," Filip writes in his letter.
Representatives of many Polonian organizations were present to show their support of the scholarship program. Traditionally, representatives of PAC Federal Credit Union came to present their significant monetary contribution to the fund. Other organizations represented at the Dinner included American Polish Cultural Center, PNA Council 122 and Lodge 1758, Polish American Central Citizens Committee, Polish Falcons of America, the Filarets Choir and others.
At the end of the dinner, a raffle took place with prizes donated by members and friends of the Scholarship Fund.
Since its inception, PAC Scholarship Fund has awarded more than 250 students for a total of over $200,000.
Applications for PAC Scholarships are available at www.pacmi.org.