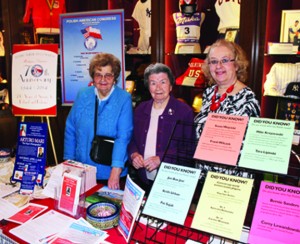 The Polish American Congress Michigan Division was present at the 9th annual Polish Folk Dance Festival on Saturday, February 6, organized by the American Polish Cultural Center in Troy, MI.
As one of the sponsors of the event, we prepared a table with information about our activities. Guests of the festival had a chance to visit our stand and pick up a membership application, scholarship application and other brochures produced especially for this occasion.
"1050 Years of Poland's Christianity" was one of them. This pamphlet informs about the important anniversary of the founding of the Polish state. On April 14, 966, after his marriage to the Christian Dobrawa of Bohemia, pagan ruler of the Poland Mieszko I was baptized and converted to Christianity. The event is considered to be the founding of the Polish state and the entry of Poland into the community of western European Latin rite Christian states.
Other interesting pamphlets available for guests of the festival included a list with names and short descriptions of some of the well-known public figures that have Polish roots, including Jon Bon Jovi, Mike Krzyzewski, Keith Urban and Pat Sajak.
PAC-MI officers were present to welcome guests at our booth, including Ann Bankowski, Barbara Lemecha and Barbara Gronet. Also, thank you to volunteers who helped throughout the afternoon.