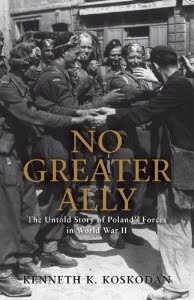 During a reception held Wednesday November 9, 2011 at the Polish Consulate in Chicago, Kenneth Koskodan was decorated with "The Knights Cross of the Order of Merit of the Republic of Poland".
Koskodan, author of the highly acclaimed "No Greater Ally: The Untold Story of Poland's Forces in World War II", received the decoration from Consul General Zygmunt Matynia for his "extraordinary contribution to promoting Polish history in the United States".  In attendance were representatives from Chicago Mayor Rahm Emanuel's office, as well as diplomats from Haiti and the Netherlands.
"No Greater Ally" is a comprehensive overview of Poland's often ignored and maligned military contributions to the Allied war effort during the Second World War.  Poland fought alone against both Nazi Germany and the Soviet Union in 1939 and continued to fight throughout the war becoming the fourth largest Allied military of the war.  Polish forces played critical roles in the Battle of Britain, Tobruk, Normandy, Monte Cassino, Leningrad and Berlin.
The book chronicles Poland's participation in all these battles highlighted with never before published firsthand accounts from veterans. Told in a truly unique heart wrenching style, "No Greater Ally" captures the inspiring stories of human endurance and the unbreakable spirit of the people of Poland tracing the plight of dozens of Veterans who fought throughout the war and suffered horribly at the hands of the Soviet and Nazi occupiers.  The book also contains never before seen photographs.
"I am humbled", Koskodan said in a brief address after receiving the ward.   He added, "This really is for those veterans who fought for freedom and who trusted me to tell their stories.  I hope I have honored them."
The initial Hardcover edition sold out in North America in just over one year following its release in June 2009.  The paperback edition was released in February 2011.  A Polish language edition was scheduled for release in November 2011 and an "E Book" Kindle edition is due to be released on December 20, 2011.
Ken Koskodan was born in Detroit and currently lives in Grand Blanc, MI.  He is a graduate of Michigan State University and currently works in the petro-chemicals industry.