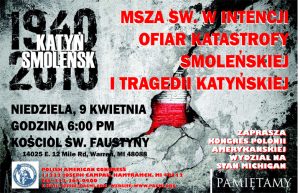 HAMTRAMCK, MI – Kongres Polonii Amerykańskiej wydział na stan Michigan zaprasza na uroczystą Mszę św. ku pamięci ofiar masakry katyńskiej oraz katastrofy smoleńskiej.
Msza św. odbędzie się w niedzielę, 9 kwietnia, o godzinie 6:00 wieczorem w kościele św. Faustyny w Warren (14025 E. 12 Mile Road).
Msza św. uczci siódmą rocznicę katastrofy lotniczej, do której doszło w Smoleńsku w sobotę, 10 kwietnia 2010 roku.  Zginęło w niej 96 osób, wśród nich m.in.: prezydent RP Lech Kaczyński z małżonką, ostatni prezydent RP na uchodźstwie Ryszard Kaczorowski, wicemarszałkowie Sejmu i Senatu, grupa parlamentarzystów, dowódcy wszystkich rodzajów Sił Zbrojnych RP, szefowie instytucji państwowych, duchowni, przedstawiciele ministerstw, organizacji kombatanckich i społecznych.  Była to druga pod względem liczby ofiar katastrofa w historii polskiego lotnictwa i największa pod względem liczby ofiar katastrofa w dziejach polskich Sił Powietrznych.  Katastrofy nie przeżyła żadna z osób obecnych na pokładzie.
Msza św. uczci także ofiary zbrodni katyńskiej, której w 1940 roku dopuściła się radziecka policja polityczna NKWD.  Na mocy decyzji najwyższych władz Związku Socjalistycznych Republik Radzieckich NKWD rozstrzelała co najmniej 21 tysięcy obywateli Polski, w tym ponad 10 tysięcy oficerów wojska polskiego, których uznano za "wrogów władzy sowieckiej".  Zabito ich strzałami w tył głowy.  W latach 1940–1990 władze ZSRR zaprzeczały swojej odpowiedzialności za zbrodnię katyńską, lecz 13 kwietnia 1990 roku oficjalnie przyznały, że była to "jedna z ciężkich zbrodni stalinizmu".
Zapraszamy całą patriotyczną Polonię na tę ważną, uroczystą Mszę św.