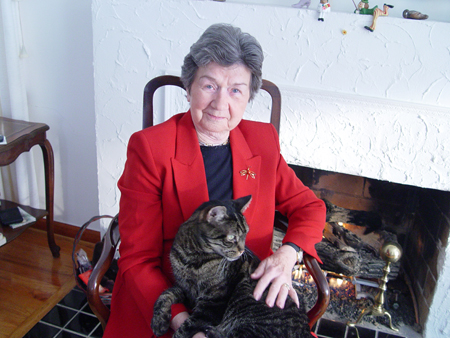 Helena Zmurkiewicz, past officer of the Polish American Congress, Michigan Division, died in her home on February 23, 2019 at the age of 93.  It is a great loss for PAC-MI and Polonia in Michigan.
Helena Zmurkiewicz (nee Rodzen) was born on June 17, 1926 in Kalusz, a city in eastern Poland (now Ukraine). She was the youngest of four children. Helena always said that she had a very happy childhood and that her home was filled with joy and laughter.
In 1940, when Helena was just 13 years old, she, her mother, and her two sisters, were arrested, separated from her father and brother, and taken prisoner by the Russian army to Kazakhstan where they were forced to work on collective farms in extremely harsh conditions. Starvation and disease were rampant. Helena contracted and survived eight bouts of malaria. Helena's mother and, she later learned, her father died of typhoid.
In 1942, while still too young to join the army, she was attached to the Polish II Corps, then forming in the Soviet Union. She too contracted typhoid but survived. Helena remembered that, when she recovered, she had nothing to wear and she was shown a large pile of clothing from which she was allowed to select something for herself. She was struck by the fact, and she never forgot, that this large pile of clothing "byl dar (was donated by) Amerykanskiej Polonii."
Helena traveled with the Polish II Corps to the Middle East, where she and many other children were fed, clothed, housed, and educated, as she said, "Dzieki polskiemu zolnierzowi, ktory upodatkowal sie sam by pomoc polskim sierotom i pol sierotom w otrzymaniu wyksztalcenia."
While attached to the Polish II Corps, and later as a Public Relations Officer in the Polish II Corps, Helena learned English, completed Polish Teachers Training College in Nazareth, and taught English in the Polish II Corps Mechanical School. She then worked in the Regimental Paymaster's Office of the War Department in England and was honorably discharged from the army in 1949. She married in 1948, immigrated to the United States in 1951 (becoming a U. S. citizen in 1960), settled in Hamtramck and Detroit, Michigan, and started a family. She had three children, Aleksander (deceased 1984), Andrzej, and Janina.
Helena attended Wayne State University and taught Polish in various Polish schools in the Detroit area. She was the director of the H. Sienkiewicz Polish School for over 20 years. She was an Adjunct Instructor of Polish at the University of Detroit-Mercy and an instructor of Polish at Macomb County Community College – Continuing Education. She also taught Polish for adults at St. Ladislaus and tutored privately. Helena worked at the U. S. Army Tank Automotive Command in Warren, Michigan, and then at Hygrade Food Products where she worked for 24 years, retiring in 1993 as executive secretary to the comptroller of the corporation.
Helena was active in many community organizations including the Polish American Congress – Michigan Division, the Polish II Corps Foundation, the Polish Teachers Association, the Polish American Congress Seniors Club, Friends of Polish Art, and "Zwiazek Harcerstwa Polskiego" – Polish scouting association.
Helena chaired: Polish language competitions in Orchard Lake, Michigan, in 1995, 1997, 1999, 2001, 2003, and 2005; the 40th and 50th anniversary celebrations of H. Sienkiewicz Polish School in 1996 and 2006; the Polish Teachers National Conference in 1983 and 1993; the Polish II Corps Schools Reunion in 1987; and others. She authored and aired many radio programs on subjects important to Poles and Polish Americans.
Helena also received numerous honors and awards including: British Defense Medal; War Medal (1939-1945); Gold Cross of Merit from the Polish government in London in 1987; Silver Cross from the Alliance of Poles of America in 1988; Gold Badge from the Polish Alma Mater in London in 1988; Order of Merit – Commission on Education in Poland in 1991; Chivalry Cross, Order of Merit from the Polish government in London in 1994; and others.
In her spare time, Helena enjoyed traveling, gardening, knitting, reading, and playing cards with friends and family.
Helena was a parishioner of St. Veronica Catholic Church in Eastpointe for over 50 years. Helena died in her home on February 23, 2019, with her son and daughter by her side.
In lieu of flowers, donations can be made to the Polish American Congress – Michigan Division at 11333 Jos. Campau, Hamtramck, MI 48212.
(PHOTO: OUR POLISH STORY)