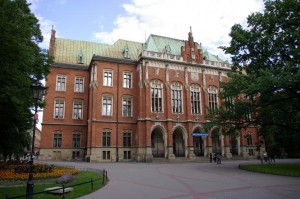 PURPOSE:
ENABLES AMERICAN STUDENTS OF POLISH DESCENT TO PARTICIPATE IN SUMMER STUDY PROGRAM AT POLAND'S FINE UNIVERSITIES.
THIS PROVIDES AN OPPORTUNITY FOR COLLEGE STUDENTS TO BECOME MORE FAMILIAR WITH THEIR CULTURE, HERITAGE, HISTORY AND LANGUAGE.
AMOUNT OF SCHOLARSHIP:
AWARDEES OF THIS SCHOLARSHIP WILL RECEIVE $2000 TOWARD TRANSPORTATION AND TUITION EXPENSES.
CRITERIA:
APPLICANT MUST BE AN AMERICAN CITIZEN OF POLISH DESCENT.
MUST BE A RISING COLLEGE JUNIOR OR SENIOR AT AN ACCREDITED SCHOOL.
MUST BE AN ACPC AFFILIATE OR BELONG TO A SUPPORTING ORGANIZATION.
MUST BE RECOMMENDED BY A MEMBER OF AN AFFILIATE OR SUPPORTING ORGANIZATION.
APPLICATIONS:
COMPLETED APPLICATIONS, TRANSCRIPTS AND LETTERS OF RECOMMENDATION MUST BE
POSTMARKED BY 1 APRIL.
FOR INFORMATION AND APPLICATION, PLEASE CONTACT laning@verizon.net
DOWNLOAD APPLICATION (BELOW)